Online Summer School Registration (Now CLOSED)
Click here for information on the Federal Emergency Broadband Benefit available to low income families
Click here for P-EBT Information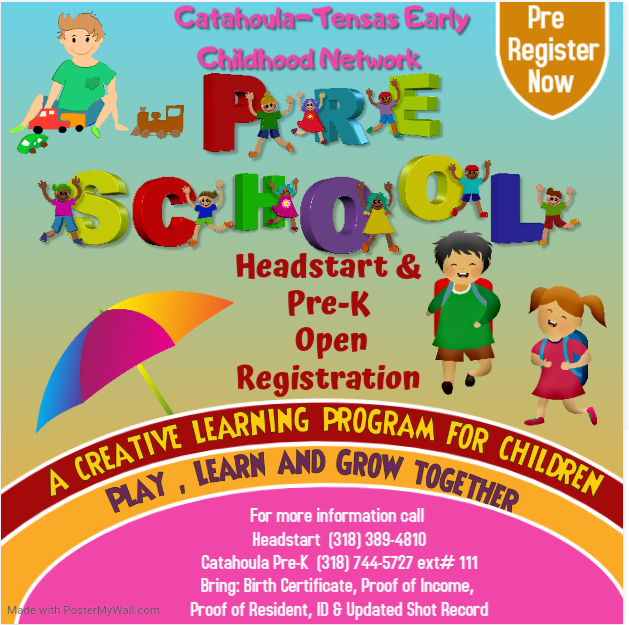 Summer Food Service Program
The Catahoula Parish School Board is participating in the Summer Food Service Program. Meals will be provided to all eligible children without charge. Acceptance and participating requirements for the program and all activities are the same for all regardless of race, color, national origin, sex, disability, age, or reprisal or retaliation for prior civil rights in any program or activity conducted or funded by USDA and there will be no discrimination in the course of meal service. Meals will be provided at the sites and times as follows.
Operating dates & times: All sites will operate June 1st to 25th, Tuesdays through Fridays from 10 to 11 A.M.
Meals & serving times: Breakfast & Lunch may be picked up from 10 to 11 A.M. Tuesday through Friday at all sites
Sites:
Block High School, 300 Division Street, Jonesville, LA 71343
Central High School, 244 Larto Bayou Rd, Jonesville, LA 71343
Harrisonburg High, 505 Bushley Street, Harrisonburg, LA 71340
Jonesville Elementary, 1219 Cora Drive, Jonesville, LA 71343
Sicily Island High, 303 Falcon Street, Sicily Island, LA 71368
Non-discrimination Statement
In accordance with Federal civil rights law and the U.S. Department of Agriculture (USDA) civil rights regulations and policies, the USDA, its Agencies, offices and employees, and institutions participating in or administering USDA programs are prohibited from discriminating based on race, color, national origin, sex, disability, age, or reprisal or retaliation for prior civil rights activity in any program or activity conducted or funded by USDA.
Persons with disabilities who require alternative means of communication for program information (e.g. Braille, large print, audiotape, American Sign Language, etc.) should contact the Agency (State or local) where they applied for benefits. Individuals who are deaf, hard of hearing or have speech disabilities may contact USDA through the Federal Relay Service at (800) 877-8339. Additionally, program information may be made available in languages other than English.
To file a program complaint of discrimination, complete the USDA Program Discrimination Complaint Form, (AD-3027) found online at: https://222.usda.gov/sites/default/files/documents/USDA-OASCR_P-Complaint-Form-0508-0002-508-11-28-17Fax2Mail.pdf. and at any USDA office, or write a letter addressed to USDA and provide in the letter all of the information requested on the form. To request a copy of the complaint form, call (866) 632-9992. Submit your completed form or letter to USDA by:
Mail: U.S. Department of Agriculture, Office of the Assistant Secretary for Civil Rights, 1400 Independence Avenue, SW, Washington, D.C. 20250-9410;
Fax: (202) 690-7442; or
Email:l to program.intake@usda.gov. This institution is an equal opportunity provider.
STRONG START 2020
Catahoula Parish will offer 3 different options for students for the 2020-2021 school year:
Option 1: In school in a regular classroom
Option 2: In K12 Virtual School. This is the same virtual option offered in the past. Students on this option can enter or exit the option only at the first of the school year and/or mid-term.  (Deadline to register is August 17th)
Option 3: In Catahoula Strong Virtual School, a virtual classroom with their local teacher. These students will be assigned to a regular classroom but will receive their instruction completely virtually from their local teacher. Students on this option may return to the in-person classroom at any point during the year.
To choose Option 2 or Option 3, please email COVID19@catahoulaschools.com and include the student's name, school, grade, parent's name, contact phone number, and if the family has internet access or will need a MiFi device.
View the Catahoula Parish Strong Start Reopen Plan

New Immunization Requirements
Effective July 1, 2019, Louisiana law requires all students entering the 11th grade or those who are 16 years old in any grade, to provide proof of current immunization meningococcal conjugate vaccine (MCV) against meningococcal disease as a condition of school entry. This is an additional requirement on top of the requirement for students in 6th grade or those 11 years old. This means that two doses are now required. This new requirement came from the passage of 2018 Regular Session House Bill 176. Revised Statute 17:170E continues to allow exemption from this requirement for medical reasons or written statement of dissent.If you have any questions, please contact the Catahoula Parish School Nurse, Brandy Montpelier, at the Central Office.
The Parents' Guides to Student Success were developed by teachers, parents and education experts in response to the Common Core State Standards that more than 45 states have adopted. Created for grades K-8 and high school English, language arts/literacy and mathematics, the guides provide clear, consistent expectations for what students should be learning at each grade in order to be prepared for college and career. A link to this information will be on our webpage under the "Parents" tab.
Why is "everything" blocked?
Schools and libraries subject to CIPA may not receive the discounts offered by the E-rate program unless they certify that they have an Internet safety policy that includes technology protection measures.
Read More