Public Schools Week
The Catahoula Parish School Board will be joining with the Learning First Alliance in celebrating Public Schools Week February 24th through the 28th. Follow our Facebook page at https://www.facebook.com/cpsbla/ to see highlights of our schools along with public school facts all throughout the week. Take the public school pledge of support at http://lovepubliceducation.org/publicschoolproud/ and share on social media with #publicschoolproud and #publicschoolsweek.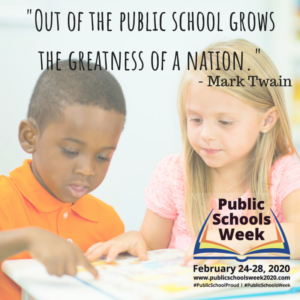 The Office of Group Benefits (OGB) has received reports from members who have been called or had a door-to-door solicitation from individuals claiming to be affiliated with OGB. In many cases, these solicitors call themselves "OGB Benefit Advisors" and ask for money to be sent directly to them in order to enroll in a health plan. It's important to remember that OGB representatives will never come to your home and will never ask you to send money directly to the agency or a representative.  If you receive a suspicious call, visit or letter, please contact OGB to confirm that it is legitimate. You can contact OGB between 8 a.m. and 4:30 pm Monday through Friday by calling 1-800-272-8451.
The Louisiana Department of Education has asked that we share the following information on FLU and HPV. Please click the link to read more information:
New Immunization Requirements
Effective July 1, 2019, Louisiana law requires all students entering the 11th grade or those who are 16 years old in any grade, to provide proof of current immunization meningococcal conjugate vaccine (MCV) against meningococcal disease as a condition of school entry. This is an additional requirement on top of the requirement for students in 6th grade or those 11 years old. This means that two doses are now required. This new requirement came from the passage of 2018 Regular Session House Bill 176. Revised Statute 17:170E continues to allow exemption from this requirement for medical reasons or written statement of dissent.
If you have any questions, please contact the Catahoula Parish School Nurse, Brandy Montpelier, at the Central Office.
Board Bits
Students from all over the parish gathered at Harrisonburg High School to participate in the parish Math Bee. Each school sent...
The Parents' Guides to Student Success were developed by teachers, parents and education experts in response to the Common Core State Standards that more than 45 states have adopted. Created for grades K-8 and high school English, language arts/literacy and mathematics, the guides provide clear, consistent expectations for what students should be learning at each grade in order to be prepared for college and career. A link to this information will be on our webpage under the "Parents" tab.
Why is "everything" blocked?
Schools and libraries subject to CIPA may not receive the discounts offered by the E-rate program unless they certify that they have an Internet safety policy that includes technology protection measures.
Eureka Math Tips for Parents
It's true: Parents are their child's chief advocate and most essential teacher – at homework time and always. We have decided to start designing a suite of tools that will help you to help your child learn more. Get Tips here or visit the Parent Resource Center on our webpage.